Engineering and Numerical Tools
Learn more about this research theme
The orientations of the Engineering and Numerical Tools research theme concern the development of research in the fields of modelling, simulation, optimization and control of complex systems and processes and of human-machine interactions in these cyber-physical systems.
Research directions
These research directions, identified on the basis of industrial needs, are conducted in the industrial fields targeted by the LINEACT CESI laboratory, which are the industry of the future and the city of the future.
They deal with various issues such as, for example, the modelling and optimization of building performance, the modelling, simulation and optimization of flexible production systems, the development of decision support tools for the maintenance of industrial systems, the development of AI for Human-robot collaboration or intelligent building control, or the study of Human-machine interactions based on augmented reality, virtual reality and digital twins. This research theme is structured along three main axes:
Axis 1 – Cyber Physical Production System (CPPS)
Axis 2 – Collaborative processes and digital tools
Axis 3 – Sustainable urban systems
The objective of the "Engineering & Digital Tools" team is to conduct research based on multidisciplinary and integrated approaches, particularly in Computer Sciences and Engineering Sciences, combining modelling, optimization, data and usage analysis in order to adress the challenges of the city and the industry of the future.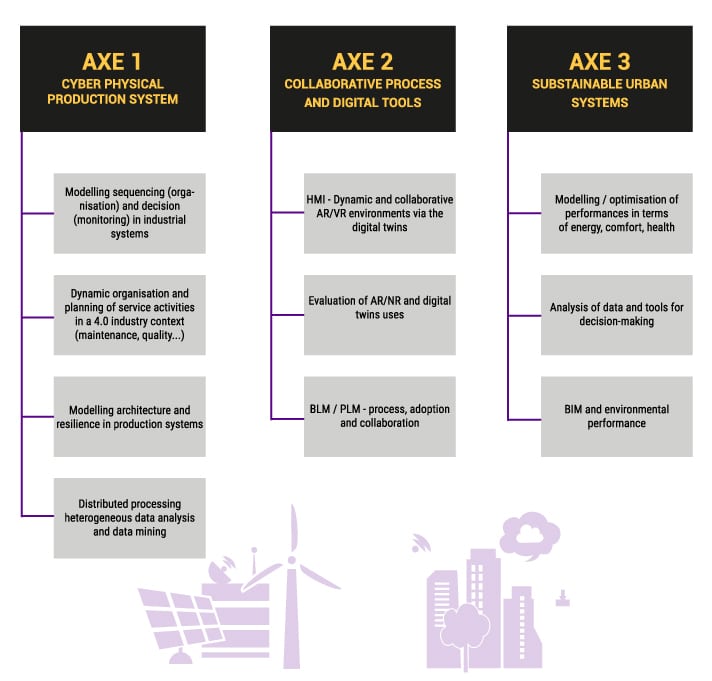 PhD Students
BOODI Abhinandana
BOUAM Melila
BOUILLON Catherine
CAILLOT Antoine
COUPRY Corentin
DALLEL Mejdi
EL MOUNLA Karim
HADDAM Nassim
KANTHILA Chinmayi
MAZAR Mérouane
MORIN DUPONCHELLE Guillaume
RICHARD Killian
SBITI Maroua
SCHIAVI Barbara
SEKKAT Rida
VASNIER Jean-Marc
VENON Arthur
XU Yiyi
ZAIMEN Khaouala